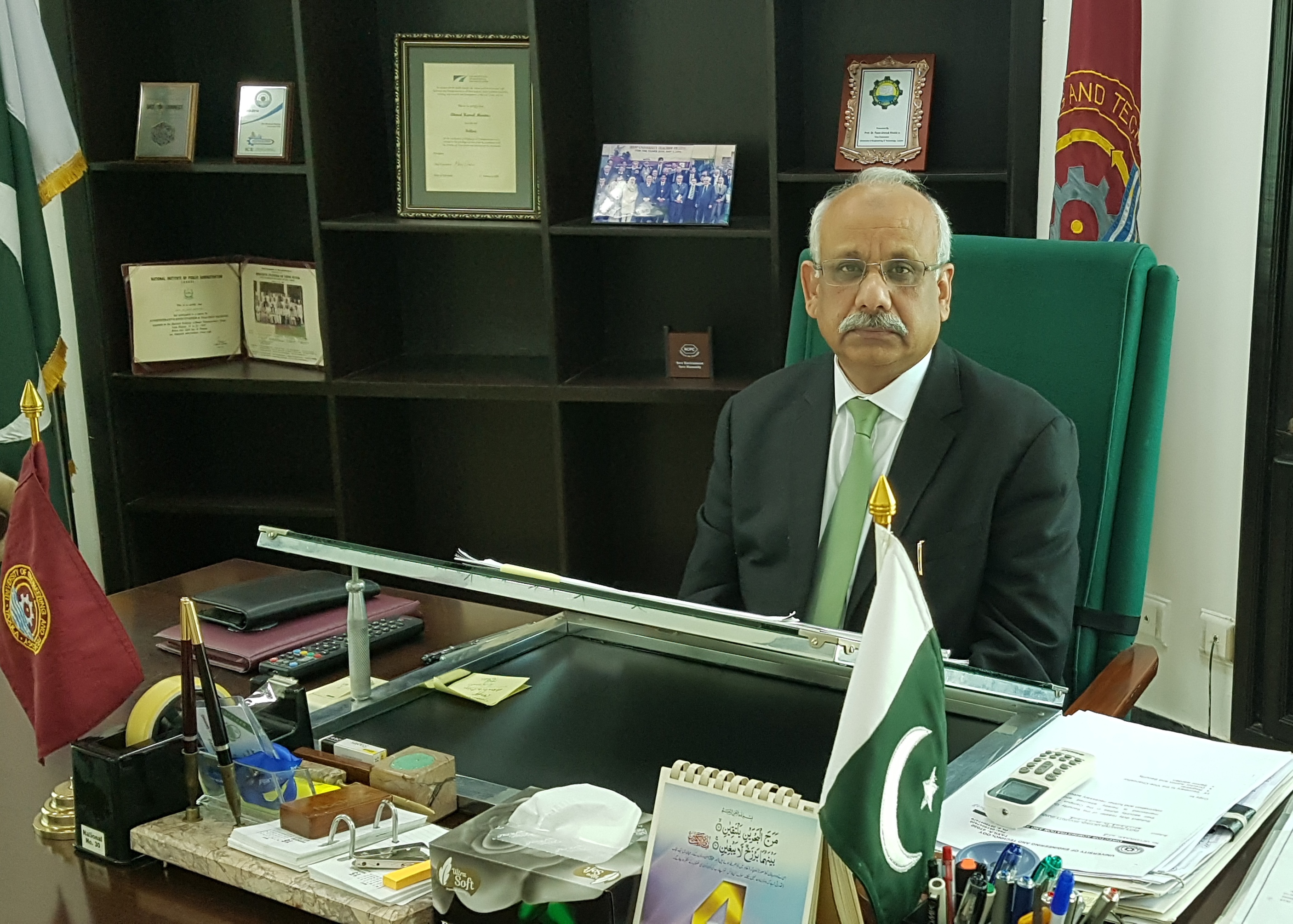 Prof. Dr. Mumtaz Ahmed Kamal, has been serving as the Dean of Faculty, Civil and Environmental Engineering and Founder Director of Taxila Institute of Transportation Engineering at the University of Engineering and Technology, Taxila, has taken over the charge of Vice Chancellor, UET, Taxila on 08-06-2018.
Graduated from UET, Lahore in 1983 and earned his PhD Degree (Transportation Engineering) from the Queen's University of Belfast, UK in 1993.
During his thirty four (34) years long career at UET, Taxila, he has made significant contributions towards teaching, research and other services and has occupied several leadership positions at UET, Taxila, including Member Syndicate, Dean Faculty of Civil and Environmental Engineering, Head of the Department of Civil Engineering and Chairman of various committees. Established a unique State of the Art Centre of its own kind in Pakistan "Taxila Institute of Transportation Engineering" (www.uettaxila.edu.pk/tite) for Postgraduate Studies and Research in the field of Transportation Engineering. He has published eighty four (84) research papers, produced five (05) PhDs and supervised forty four (44) M.Sc. scholars.
He has been a leading consultant to a number of Institutions/organizations over the last three decades, as Managing Partner, Progressive Engineering Services Rawalpindi, since 1986, Member, National Highway Council (NHC), Pakistan, Member, Governing Body, Rawalpindi Development Authority (RDA), etc. Principal Investigator of a fully funded project by National Highway Authority (NHA), Ministry of Communication, Government of Pakistan, titled: "Improvement of Mix Design Technology for Pakistan" which is being carried out in collaboration with Highway Research & Training Centre (HRTC) NHA and UET, Lahore.
Higher Education Commission Pakistan conferred him the Best Teacher Award for the year 2005, received the Performance of Excellence Award from Institution of Engineers, Pakistan 2007. Established UET Taxila Alumni Association (UAA), in 2006 with a vision to work for the development of UET Taxila alumni. UAA is a dynamic link between UET Taxila graduates and University. Currently, its registered members are more than four thousands.