Message from Chairman
---

Computer engineers build devices that facilitate human lives. These devices automate activities for us, communicate with other devices in the world, and understand our voice and gesture to follow our commands. The department will fundamentally teach you to build computing devices and to program these devices to do activities planned by you. You will learn to attach sensors with these devices so they can interact with external world to perform their jobs. Then you will learn about the communication of these devices over Internet and cyberspace. Then you will add intelligence to these devices which will enable them to think like humans and make intelligent decisions. So, if this is your passion, then Computer Engineering Department is the right place for you.
Let's talk about the technologies that make this passion into reality. Embedded systems such as Raspberry Pi and Arduino are basic building blocks. Programming skills like C, C++, Python and Java are basic programming tools to program your embedded systems. Internet and cloud computing are technologies to interconnect your devices in the internet world and cyberspace. Artificial intelligence let your devices think like human beings. GPUs are next level of embedded systems that bring artificial intelligence to your devices placed anywhere in the world. The knowledge of computer engineering will enable you to develop solutions for smart cities, smart homes, industry 4.0 etc. There are endless opportunities for computer engineers in advanced countries like US, Europe and China.
The department has mission to offer students with great level of hands-on experience. The laboratories are established with the latest tools and software from companies like Amazon, Microsoft, Intel, IBM, Google, Cisco, NVIDIA, Oracle and IBM. Department had academic alliances with these tech companies. Through this academic alliance, the department has got their latest software and associated curriculum for class room and lab teachings. Therefore students will work on the tools that are being used in US universities and will empower to compete with international community.
The most important dimension of department is faculty who will be the mentor for our student to empower with the skills and capabilities for rest of their lives. Fortunately, the faculty has expertise and experience in majority of areas of Computer Engineering. Dr. Adeel has expertise in networks and Internet technologies, Dr. Awais has expertise on Internet of Things, Engr. Naveed Khan has expertise on embedded systems design, Dr. Fawad has expertise building human computer interfaces using on sound and speech, Dr. Haroon has expertise on vision systems, Dr. Majid has expertise on Signal Processing and Medical Imaging, Dr. Waqar has expertise on developing specialized hardware, Dr. Asif has expertise on Cyber Security and Blockchain, Dr. Rizwan has expertise in Computer Graphics and Virtual Reality. Engr. Asim has expertise in Operating Systems and Cloud Computing and Dr. Adnan has expertise Data Science and Data Analytics.
Lastly, the department has mission to develop critical thinking and analysis skill in the students. The students will be involved in designing complex engineering problems at different stages in the degree so they become capable to develop solutions for real world problems. Department also focuses on industrial internship to introduce our students with the industrial environment. Department regularly organizes workshops and hackathons to learn the latest advances in the industry. Department has industry advisory board to get direct advice from the industry. Department encourages students to participate in international competitions like Microsoft's Imaging Cup. Technology incubation center helps students to make their startups and to become entrepreneur. Department also motivates female students for women entrepreneurship and women empowerment.
We are excited about you and warmly welcome you in the department. Let's build great future for ourselves and for our beloved country.
---
Mission
CPED is committed to produce graduates having solid foundation of computing systems design & development, and strong professional practices to adopt rapidly changing social and technological trends.
---
Program Educational Objectives (PEOs):
Graduates of the Computer Engineering Program are expected to have:

PEO-1:
Necessary background and technical skills to analyze problems and design solutions in domains like embedded systems, computer aided systems, system administration and integration.
PEO-2:
Ability to practice Computer Engineering skills to serve local and global industries and organizations as consultants and entrepreneurs.
PEO-3:
Success with awareness and commitment to their ethical and social responsibilities, both as individuals and in team environments
PEO-4:
Capability of maintaining and improving their technical competence through advance degree programs in engineering and other professionally related fields.
Mapping of PEOs with Department Vision and Mission

Sr.No

PEOs

CPED Mission Statement

UET Taxila Mission Statement

UET Taxila Vision Statement

1

PEO- 1

✔

✔

✔

2

PEO- 2

✔

✔

✔

3

PEO- 3

✔

✔

✔

4

PEO- 3

✔

✔

✔
---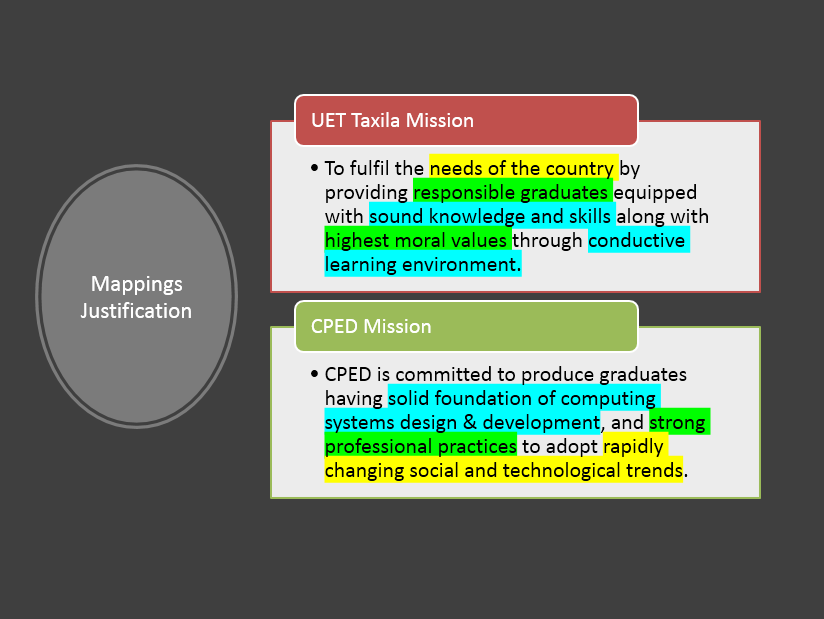 ---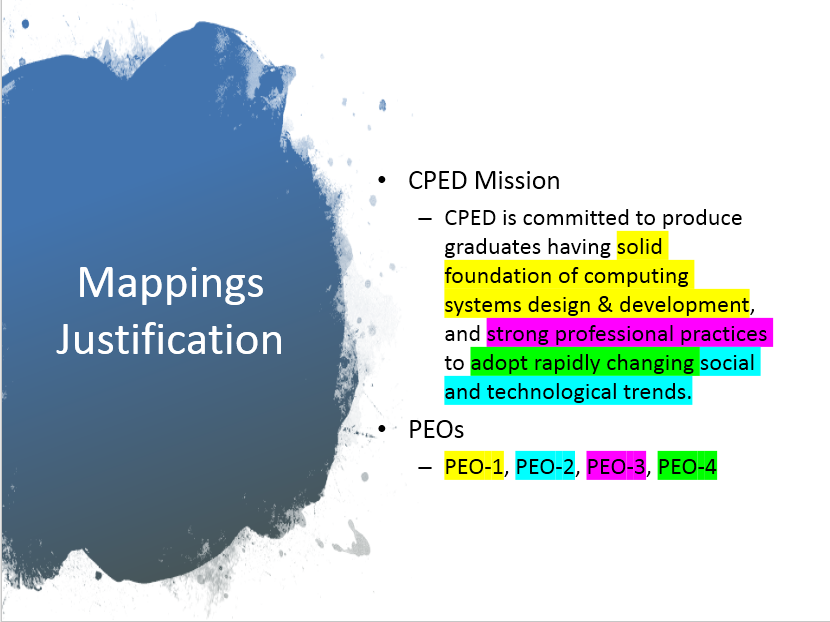 ---
Program Learning Outcomes (PLOs) and their Description
PLO-1 Engineering Knowledge:
An ability to apply knowledge of mathematics, science, engineering fundamentals and an engineering specialization to the solution of complex engineering problems.
PLO-2 Problem Analysis:
An ability to identify, formulate, research literature, and analyze complex engineering problems reaching substantiated conclusions using first principles of mathematics, natural sciences and engineering sciences.
PLO-3 Design/Development of Solutions:
An ability to design solutions for complex engineering problems and design systems, components or processes that meet specified needs with appropriate consideration for public health and safety, cultural, societal, and environmental considerations.
PLO-4 Investigation:
An ability to investigate complex engineering problems in a methodical way including literature survey, design and conduct of experiments, analysis and 19 interpretation of experimental data, and synthesis of information to derive valid conclusions.
PLO-5 Modern Tool Usage:
An ability to create, select and apply appropriate techniques, resources, and modern engineering and IT tools, including prediction and modeling, to complex engineering activities, with an understanding of the limitations.
PLO-6 The Engineer and Society:
An ability to apply reasoning informed by contextual knowledge to assess societal, health, safety, legal and cultural issues and the consequent responsibilities relevant to professional engineering practice and solution to complex engineering problems.
PLO-7 Environment and Sustainability:
An ability to understand the impact of professional engineering solutions in societal and environmental contexts and demonstrate knowledge of and need for sustainable development.
PLO-8 Ethics:
Apply ethical principles and commit to professional ethics and responsibilities and norms of engineering practice.
PLO-9 Individual and Team Work:
An ability to work effectively, as an individual or in a team, on multifaceted and /or multidisciplinary settings.
PLO-10 Communication:
An ability to communicate effectively, orally as well as in writing, on complex engineering activities with the engineering community and with society at large, such as being able to comprehend and write effective reports and design documentation, make effective presentations, and give and receive clear instructions.
PLO-11 Project Management:
An ability to demonstrate management skills and apply engineering principles to one's own work, as a member and/or leader in a team, to manage projects in a multidisciplinary environment.
PLO-12 Lifelong Learning:
An ability to recognize importance of, and pursue lifelong learning in the broader context of innovation and technological developments.
Mapping of PEOs on to PLOs

Program Learning Outcomes (PLOs)

Program Education Objectives (PEOs)

PEO-1

PEO-2

PEO-3

PEO-4

PLO-1

Engineering Knowledge

✔

✔

PLO-2

Problem Analysis

✔

PLO-3

Design/Development of Solutions

✔

PLO-4

Investigation

✔

PLO-5

Modern Tool Usage

✔

PLO-6

The Engineer and Society

✔

✔

PLO-7

Environment and Sustainability

✔

✔

PLO-8

Ethics

✔

PLO-9

Individual and Team Work

✔

PLO-10

Communication

✔

✔

PLO-11

Project Management

✔

✔

PLO-12

Lifelong Learning

✔
---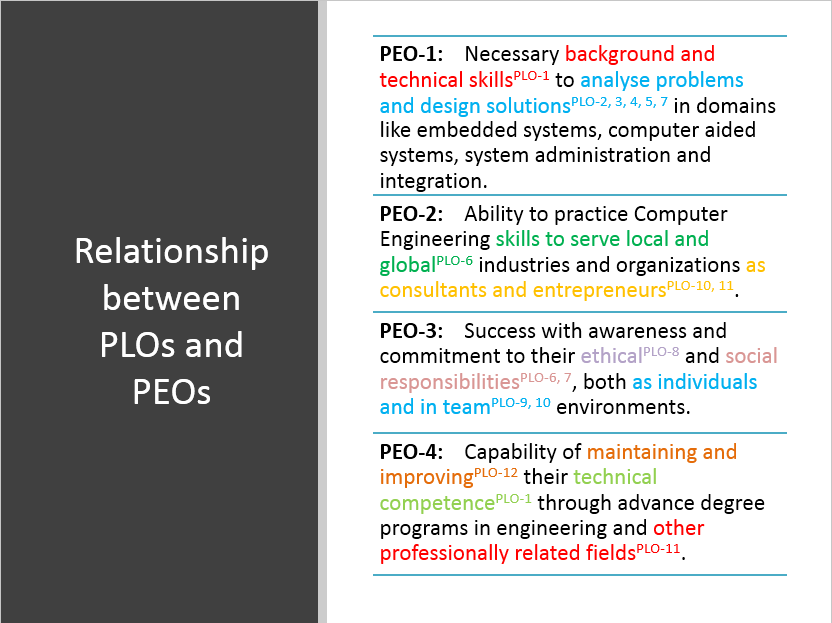 ---
Contact Information
Faculty of Telecommunication and Information Engineering
Department of Computer Engineering
University of Engineering and Technology, Taxila
Pakistan
Ph: 051-9047568
Fax: 051-9047420