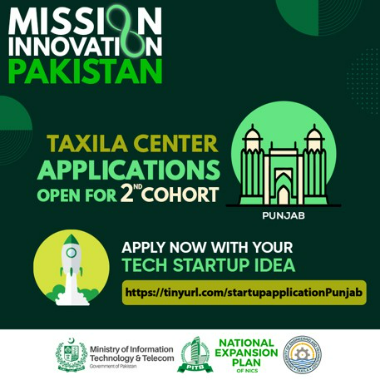 The National Expansion Plan of NICs is a project by the Ministry of Information Technology and Telecommunication (MoITT) and Punjab Information Technology Board (PITB). We have opened 13 technology incubation centers across Pakistan to establish the largest network for startups and entrepreneurs.
Startups are the future of Pakistan. Under #MissionInnovationPakistan we are looking to foster entrepreneurship, technology, and economic growth in Pakistan. Our platform is for aspiring entrepreneurs who are looking for opportunities to work on their tech startup ideas and have the potential to create an impact in the tech ecosystem of Pakistan.
Our 6-month cycle follows a Zero Equity Model which means it is completely free for the inducted startups!
We are pleased to announce that our first cohort of Taxila will be graduating soon. Applications are now open for the second cohort.
We offer the following services to the inducted startups:
Monthly Stipend
Free Office Space
Networking Opportunities
Mentorship
Business Development guidance
Free Legal Assistance
This is a great opportunity for final year students, fresh graduates, and even experienced individuals to turn their business idea into reality.
Interested startups and their founders are encouraged to apply using the following link: https://tinyurl.com/startupapplicationPunjab